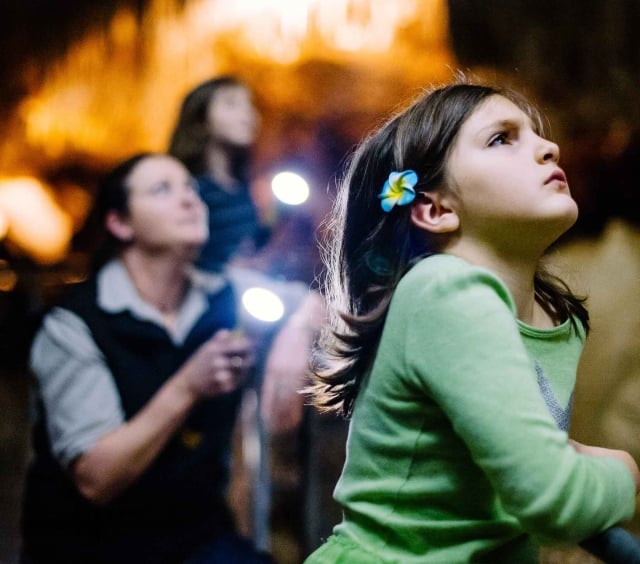 Enjoying the caves with the youngest members of your family
All the caves are beautiful and unique. They are different in size, number of steps, and the way in which the tours operate. Whilst children of all ages are welcome at our caves, you may find it easier to take young children of 1 or 2 years of age to some of the caves more than others. So, some tips to help you:
Mammoth Cave is a wonderfully big cave where you set the pace to suit your family without the need to stay with a tour group - and it's much easier to take small children out halfway through if they aren't happy or need the toilet!
Ngilgi Cave is big with lots to explore, and you can take your time in that one too. There are some uneven steps where small children might need a bit of a hand – but you can head back up and out at any time if you need to.
Jewel Cave is our biggest cave! The group stays with a tour guide, on a route along 700 metres of boardwalk and stairs, that takes you through several impressive chambers. There is an opportunity to turn back early in the tour, but after that it's really a matter of sticking with the group and enjoying the whole of this amazing cave.
Lake Cave is the smallest and deepest of our caves. Smaller, but so peaceful; the intricate formations and beautiful views are wonderful. Your guide will keep the group together as you experience the calming dripping sound and enjoy the reflections. Probably the most challenging of our caves for very small children and their parents, due to the number of steps and the closeness of the group.